How to Find a Tutor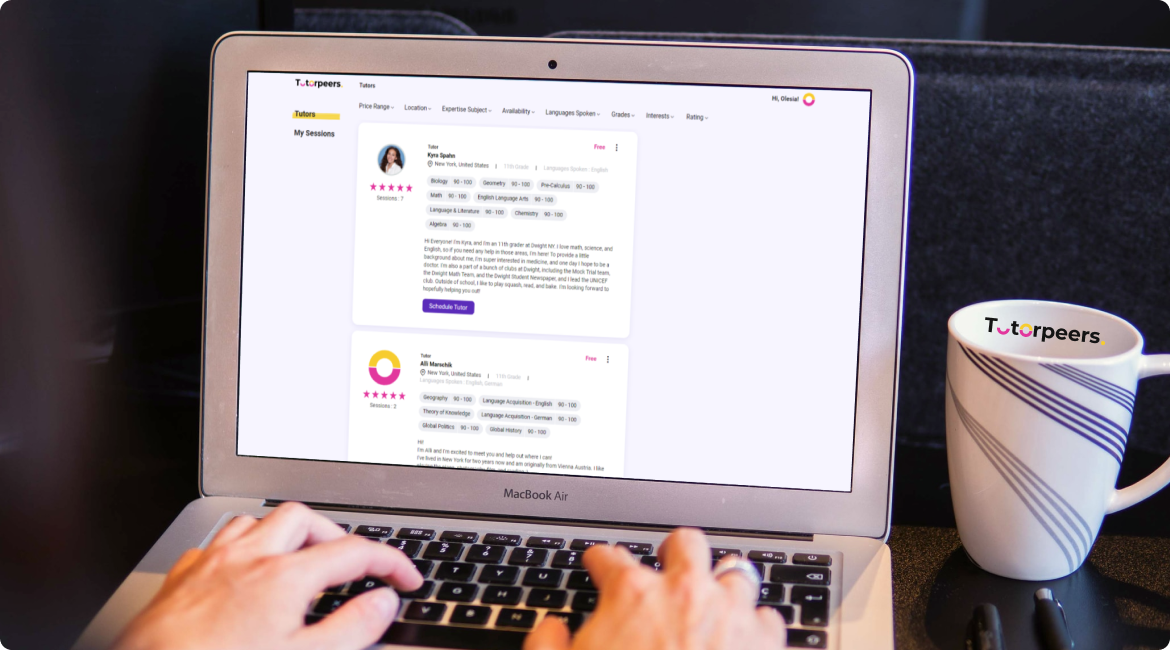 How to Find a Tutor
3 minutes for reading
There are so many benefits to finding a great tutor. Receiving one-to-one personalized learning support can make a huge difference in your grades, your test scores, and your overall attitude toward school.
Traditional tutoring with a professional tutor can be extremely expensive, difficult to schedule, and hard to make a personal connection. Peer tutoring or student-to-student tutoring is low-cost or free, have similar schedules and availability, and is able to instantly connect on the same learning subjects and hurdles you are experiencing. Some schools and community organizations offer peer tutoring in-person, but only Tutorpeers is a dedicated online community making high-quality student tutoring accessible to students worldwide regardless of their location or financial circumstances.
Once you set up your Tutorpeers Learner profile, here is how to find a great student tutor:

Set a goal

You and your tutor will work better together if you know what learning objective you hope to achieve. If you have a specific homework question or test you are studying for, share that information with your tutor when you schedule your tutoring session. That will help your tutor prepare and you both will make the most out of your time studying together.

Search using filters

You can search for Tutorpeers tutors based on the session price, where the tutor is located (for timezone or state-specific test alignment), their subjects of expertise, availability, languages they speak, their grade level in school, their interests and hobbies, or their rating based on other Tutorpeers tutoring sessions.
You can use all of these filters or just the ones that are most important to you. Finding the ideal tutor has never been easier.

Schedule a tutoring session

You can schedule a tutoring session instantly with an online tutor or in the future at a time that is mutually convenient for both of you.

Prepare for your session

Think back to step 1 and make sure you have your learning goal in mind. Your tutor is there to help you learn the material for you to succeed; not to give you the answers. The more you can describe what you need help with, the better they will be able to help you.
Be sure to bring any assignments or relevant materials with you.
The Tutorpeers custom learning platform is equipped with all the tools you need:

Video call
Chat
Shared whiteboard
File and screen sharing
Integrated math, calculator, and grid tools

Rate your tutor and book your next session

After your tutoring session, reflect on how it went. Did you achieve your goal? Was your tutor kind, knowledgeable, and considerate? Leave a star rating for your tutor and any specific comments. Your feedback helps make the Tutorpeers experience better and better for yourself and other students.
Most students benefit from ongoing or repeat sessions. You can book with the same tutor or try someone new. The most important thing is that you will achieve your academic goals!
Now that you know how to find a tutor, try it for yourself! Sign up as a Learner on Tutorpeers now.
Q&A
Q: What is the difference between a teacher and a tutor?
A: A teacher is a trained professional who instructs students in a classroom setting, following a curriculum and standardized educational guidelines. They often teach multiple students at once. Conversely, a tutor provides one-on-one or small group support, focusing on specific areas where a student may need extra help or guidance. Tutors typically tailor their approach to individual student's needs and learning styles.
Q: How much do tutors charge in 2023?
A: Tutoring rates can vary significantly depending on location, experience, subject area, and the tutor's qualifications. For peer tutoring platforms like Tutorpeers, rates are generally lower, ranging from free to $25 per 30-minute session. Professional tutors might charge more, with some rates exceeding $100 per hour.
Q: Which tutor is right for you?
A: The right tutor for you is someone who understands your learning needs, has expertise in the subject area you need help with, and has a teaching style that complements your learning style. When searching for tutors, consider their experience, qualifications, availability, languages spoken, location, and student reviews.
Q: How do I find tutors online?
A: You can find tutors online through dedicated tutoring platforms like Tutorpeers or by searching social media, forums, or classified ad websites. When using a tutoring platform, you can filter your search based on your specific needs, such as subject area, availability, location, and price.
Q: How can I prepare for my first session with a tutor?
A: To prepare for your first tutoring session, have a clear learning goal, gather relevant materials or assignments, and be ready to discuss the specific areas where you need help. Ensure you have a quiet and comfortable workplace space, and familiarize yourself with any necessary technology or tools during the session.
You may also like
Boost your teen's study skills with expert advice—practical, proven tips for success.

Read more

Noticing your teen struggle with high school demands? Get actionable advice on easing the stress and making high school a positive experience.

Read more

Caught in the procrastination trap? Explore strategies to kickstart your study game, from setting goals to embracing time management techniques. Let's make studying fun again with Tutorpeers!

Read more